DIVIDEND DISTRIBUTION TABLE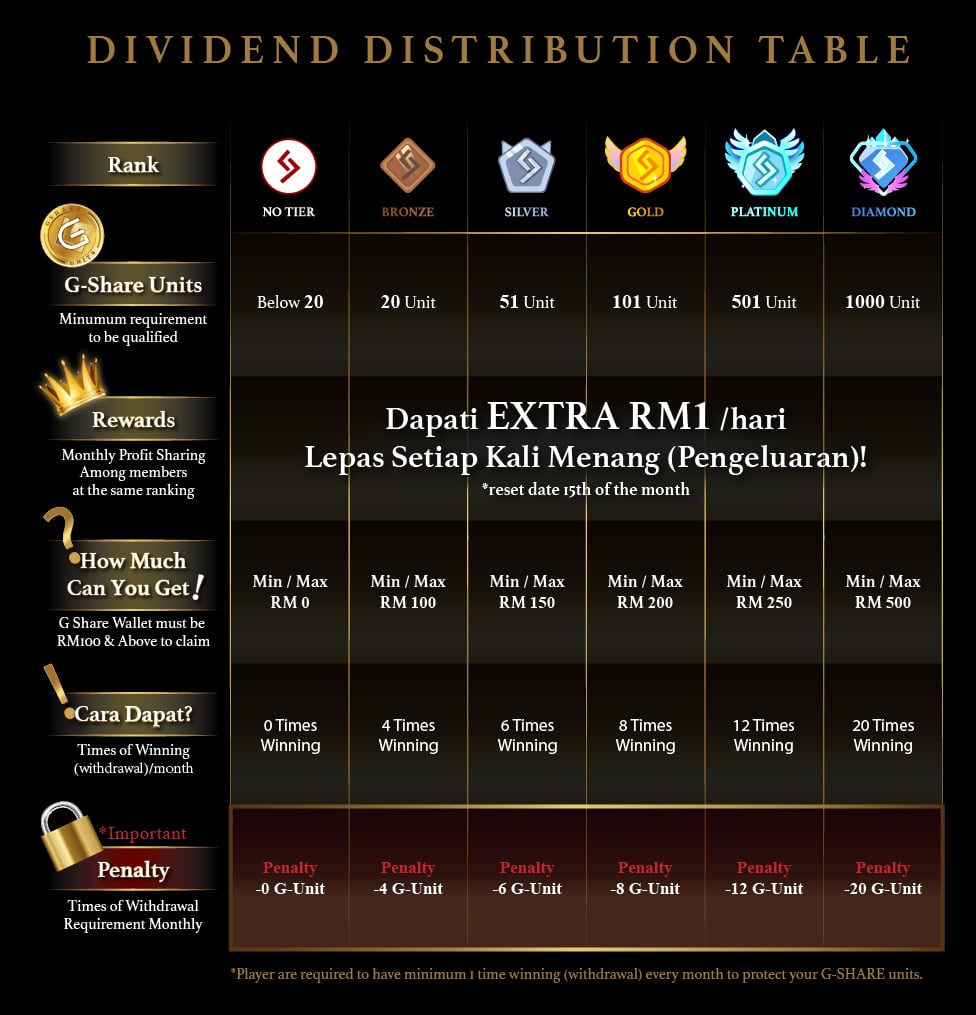 INTRODUCTION
G-SHARE practise monetary profit sharing concept in organising online casino. Presenting all our resources to the Grey Industry. Let us have all the risk, all you need to do is bet to own!
HOW DIVIDEND WORK?
Every month 1st, system will generate a profit report of SKY Casino. 50% of the profit will divide to all qualified shareholder and auto transfer to their bank account before 15th of the particular month.
HOW FREQUENT AM I ELIGIBLE TO CLAIM DIVIDEND?
It practise a lifetime sharing of monthly nett profit of the organization. Dividend will transfer to your bank account EVERY month from 13th - 15th as long as your bank account information is correct and verified.
Changing of Bank account required verification through your registered whatsapp number
*Important: Member needs to stay active every month to fulfil the terms of claim
BENEFITS OF G-SHARE
Winners GET Corporate Online Casino Shares [Monthly Nett Income]
Being a PROFESSIONAL Gambler in future is no longer unrealistic
Being the FIRST or forever being a follower
Our Marketing Team assure Monthly PROFIT GUARANTEE [That's why you're here]
HOW TO GET G-SHARE?
Each successful withdrawal shall GET one [1] unit of G-Share. Current Cost per unit of G-Share is fifteen ringgit Malaysia [RM15]. We do not distribute G-Share to any platform other than Casino governed by G Corporation.
REQUIREMENT OF G DIVIDEND
Member have to successfully LEVEL UP to BRONZE or above to entitle for Monthly Dividend from SKYKASINO. However, there is certain requirement such as minimum winning per month to withdraw.